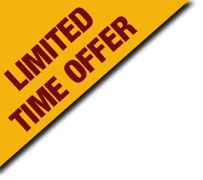 LEARN THE

SECRET

TO PLAYING THE LOTTERY

Read this book to learn how to
WIN MORE!

US$12.99
6

Perfect for any lotto in
which you play 6 numbers

34

34 proven wheeling systems,
all ready to play
Simple to use, - just drop your
numbers into the grids
Choose from single, double
and multiple wins
The Man Behind The Maths
Born in Bulgaria, Dr. Iliya Bluskov has had a lifelong fascination for numbers. Now a university professor, he holds an M.Sc and a Ph.D. in Mathematics, and both his master's thesis and doctoral dissertation are related to lottery systems. Over 30 years ago, as a student in Europe, Iliya won a small "jackpot" prize. He used this money to fund further lottery play using a variety of systems. The experience generated a lifetime interest in a subject that later became his specialised area of research.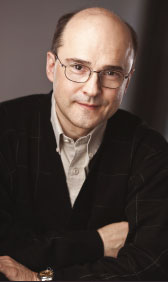 "The Ultimate Guide to
Lottery Systems"
It took a mathematical wizard like Dr. Iliya Bluskov to develop, test and prove this incredible collection of lottery systems.
An expert in the field of "Combinatorics", Dr. Bluskov has devoted his life to studying lotteries to determine how to achieve the best-possible odds with a minimum number of tickets. In fact, he's the only author who has actually created world record-breaking systems. In this definitive guidebook, Dr. Iliya Bluskov shows you the smart way to organise your numbers to achieve the most when you win. You might even capture that huge life-changing jackpot! US$12.99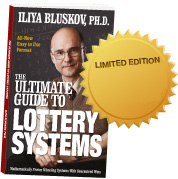 Just imagine having the financial freedom to live in luxury and enjoy the best of everything... from beautiful homes to expensive clothes and exotic holidays. When you win the lottery, anything is possible.
Buy Now!
US$12.99
Join my legion of winners
"The systems in the book are straight-forward and easy to understand"

D. P., USA

"It is a no-nonsense, simple, accurate and mathematically sound way of playing the lottery"

Sean Dwyer, Ireland

"I have won more money, more times with Bluskov than I ever did with the other popular wheel books on the market"

Sandy Russell, New Zealand

"...the first week after I had employed some of the techniques explained in this book, I had a winning ticket that lined up 5 out of the 6 drawn balls....
Well done Dr. Bluskov!"

Michael Rosen, USA
Money Back Guarantee
If you are not completely satisfied with your purchase, simply return it within 30 days for a full refund — No questions asked.
The Ultimate Guide To Lottery Systems' is available now through this special publisher's offer. Don't waste your time or money on any other system – this is the book for astute lottery players everywhere! Let me show you my secrets,

Buy Now!